Fête du Cochon
Cultural , Gastronomy , Traditions and folklore , Local event at Saint-Lary-Soulan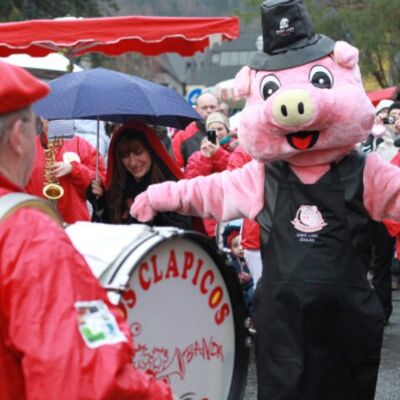 Bigorre's black pork, a local specialty, will be celebrated on this 2nd edition of Pig's Feast in Saint-Lary.
Leave a review about Fête Du Cochon :
Horrible

Bad

Average

Good

Excellent
N'a de fête que le nom...

La FÊTE du cochon?? Le porc noir à l'HONNEUR?? Sérieusement?? C'est un honneur de se faire mutiler, dépecer, griller, manger??? Non, ce n'est pas la fête du cochon, mais celle de tous ceux qui l'exploite pour quelques instants de plaisir gustatif. Est-ce cela que nous devons transmettre à nos enfants? Se réjouir et organiser des jeux autour de cadavres? Impensable qu'en 2018 nous en soyons encore là... Il y a tant d'autres merveilles à promouvoir avec fierté dans ces montagnes et ces vallées !!! Et par dessus tout, promouvons le respect toute vie!

De tout temps, le tue cochon est un moment de convivialité, partage et entraide pour les habitants d'un même village. Au-delà de pouvoir nourrir pendant des mois les familles, cette journée transgénérationnelle est l'occasion de faire une grande fête. En 2018, où la mal bouffe, l'isolement et l'individualisme sont de plus en plus présents, nous pensons qu'il est important de faire perdurer ces traditions : moments de partage et de convivialité autour de produit d'excellence comme le Porc Noir de Bigorre. Il est effectivement important de transmettre cela à nos enfants, c'est notre devoir de mémoire et d'éducation du bien manger. Nous vous invitons à mener les vrais combats : industrie agro-alimentaire, élevages intensifs, mal-bouffe des cantines, abattage torturier...

que de bonnes odeurs dans le village ce jour là et très bonne ambiance.